Please welcome Calvin to the Favor Creative family!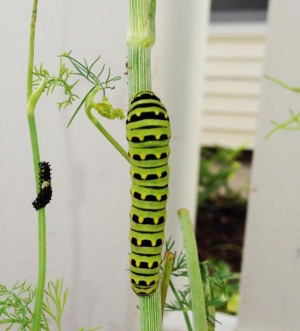 There is so much to learn when growing herbs, running an eco friendly party favor business and hosting a website…and Calvin has stepped right up to help you and me learn more about nature!
Calvin is a caterpillar that will bloom into a beautiful Black Swallowtail Butterfly.
What I have learned about this kind of caterpillar is that they love dill, and this is very true because Calvin has about 10 friends who have joined him on his journey.
To some, this may be an issue but for us, we've used the dill to make a couple of yummy dishes and now i am more than happy to share the rest with Calvin and his merry brood.
Please enjoy this journey, as we watch our beautiful friend grow to become a gorgeous butterfly!  And I hope we have the honor of watching this all happen until he flies the dill. 🙂
xo